We are so happy you have found your way here to Sparkle Your Light Books. On this website you'll find books and resources to keep your inner sparkle and we hope will make parenting and all areas of your life a bit less stressful, more fun and joyful. We are also excited that our book, Angel Violet's Magic Wings, has found a new home here.
One Very Special Angel Loves to Help Your Child(ren) to Sparkle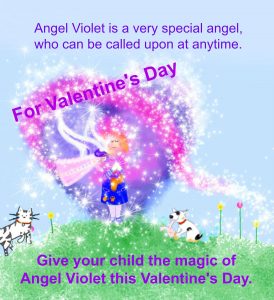 "My little one is VERY sensitive to others energies and those unknown energies that we experience every day consciously and subconsciously. Sometimes the energy she took on from others was so much for her it manifested into physical ailments. As a mother of such a sensitive little soul, it was heartbreaking to not know what to do to help my little angel keep her energy cleared and herself grounded. How do you teach a two year old to clear their energy?!? ANGEL VIOLET'S MAGIC WINGS!! This book was recommended to me for helping my little one and it has been a dream come true. It has become my daughter's favorite nightly bed time story and has helped mom to teach my little one how to "clear the dust from her sparkles". We read it every night and to the point she has now memorized it. Such a great book to help these little souls. Thank you Bonnie Snyder." An Amazon Reviewer

Meet Angel Violet in the book
Angel Violet's Magic Wings
Angel Violet's Magic Wings
A picture book to help children talk about their feelings in an everyday challenging world — and a companion guide for parents & caregivers to help build their strength and resilience.
Angel Violet's Magic Wings is a beautifully illustrated book for children ages 4-6+.
Through the tale of a girl who loses her sparkles and has to find them again, the book helps children cope with the stresses of everyday life, learn how to feel safe, and manage their feelings. Angel Violet wisely guides children to trust their heart and take time to notice what makes them feel "yucky" or happy.
The book's special format offers Parents Notes on every page, with ideas and questions to facilitate communication and open avenues for children to talk about, recognize and handle feelings in a healthy way. It helps children to self soothe and calm. With easy prompts, parents, teachers and grandparents can relax and guide children to express their feelings in an appropriate way, find their strengths, and build emotional resilience.
Written by former teacher and counselor, and certified life coach Bonnie Snyder, Ed.S., CPC.
Read more about Angel Violet's Magic Wings 
Buy the book directly from the author
Purchase on the SparkleYourLightBooks.com site at  
Sparkle Your Light Books products
 or Purchase from:
---
---
Bonnie was a guest on Coach Cafe Radio Listen in:
Listen in live at this link to hear the recording of tapping into the Diamond Frequency to Change Your DNA.